Rio Designs
and how it got its name

It all started sometime in 1993. Whilst reading one of my wife's American Magazines I noticed a review of quilting software.
At that time there were only 3 major programmes - Electric Quilt, Quilters Design Studio, and PC Quilt.
I wrote to the one that obtained the best review to ask if it would run on my Mac and was told "no" but a Mac version was in the pipeline.
I then asked if the company had anyone selling the product outside the US, again a negative response, so suggested that
I could act on their behalf and was accepted - and that's how it all began. Then came the question of what to call my fledgling business - Joyce's business -
The Contented Cat - would clearly be close - so what better than to call my company after one of our 3 cats.
I chose Rio, she was a Classic English Red Tabby and knew nothing about computers but loved sitting on working papers etc.

Sadly in August 2003, Rio developed a very nasty tumour in her stomach and we had to let her go - she was coming up for 18 years old.
When we took her on in 1985 she was not expected to live very long as although she was the first born of the litter
and perfectly marked. she had several congenital defects which meant
she could never be a mother or be shown as befitted her pedigree.
It seemed very strange to come home to an empty house

Except........

We now have 2 Seal Point Siamese who are all from the same parents and life has not been the same since..........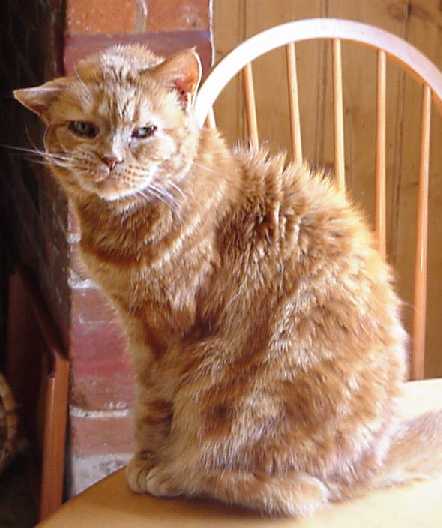 Rio after a 'cat nap'
Way back in 1995 I felt that there was a need in the UK to develop a Rotary Cutter Blade exchange and sharpening service.
I wrote to the one man I knew in the USA who is regarded as the best in his field and enquired if he would make me or sell me a suitable machine.
Was informed that the technology was not for sale, but that he would sharpen blades that I sent to him from UK Quilters.
He uses a special machine, with several processes and many types of grinding paste so that the blades are sharpened just right.
Yes, you've guessed it, I had to form a separate company and decided that this would be 'Sheba Blades' after our late Foreign White.
This one knew a bit more about computers as she either sat between the Monitor and the keyboard, or walked all over the keyboard whilst
I updated the web pages or even sat on top of the monitor as it was nice and warm. She knew MS Word backwardssssssssssssssssssssssssss !!
Prices as at 11.7.2020 (and this is the first change since 2012 !)
Will Supply new OLFA 45 mm blades for: £4.75 plus SAE
Will exchange your old 45 mm blade for a new OLFA blade for: £4.25 plus SAE
Will sharpen any make of 45 mm blade for: £2.95 plus SAE
Will sharpen 10 blades for the price of 9 £26.55 - return post FREE
Or - supply 10 New OLFA 45mm blades for the price of 9 £42.75 - return post FREE
OR - supply a box of 6 NEW 45mm OLFA blades for: £28.00 Plus postage of £4.02
Or - 10 NEW OLFA 45 mm blades in a single pack for £39.95 - return post FREE
Or - exchange 10 old blades for 10 new OLFA blades for the price of 9 - £38.25 - return post FREE
or Supply 10 NEW 'generic' (no name) blades for £21.95 - return post FREE
NEW - OLFA 45mm RFotary Cutters £9.95 - POST FREE
I allow a 10% discount on all orders of 10+ of one type
but would
appreciate a self addressed envelope or self addressed label
Note that I will pay return postage on all bulk orders (10 + )


Please send all old blades in their original plastic cases (you can post up to 12 in one plastic case )
or securely taped to a piece of card, then place inside (Large Letter Post Stamped envelope for orders under 10)
or a Self Addressed Return envelope/label for 10+ orders
and forward to:
Rio Designs
Flint Cottage, Treacle Lane
Rushden, Buntingford
Herts., SG9 0SL
New, sharpened or replacement blades will normally be despatched by return.


Back to Front Page

---
Updated on J4th October 2022 by The Man from Rio
---