Flint Cottage, Treacle Lane. Rushden, Buntingford, Herts., SG9 0SL
Tel: 01763 288234 - e-mail: sales@riodesigns.co.uk

From Various Companies
Jacquard Inkjet Fabric Sheets
Anything you create or have on your computer, such as drawings or photographs, you can print on these cotton, silk, and organza fabric sheets. Jacquard fabric sheets are paper-backed, so they go through your inkjet printer or inkjet copier just like paper. After printing, just peel off the paper backing. If item is to be rinsed, a waiting time of 24 hours is recommended. Attach to any project by sewing or using a fusible bonding material (not included).
Available in 8.5" x 11" / 216 mm x 279 mm sheets - Packs of 10
Note: Printed labels are NOT washfast.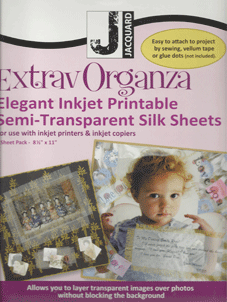 Jacquard - ExtraV Organza
semi-transparent Silk Ink Jet Fabric sheets
8.5" x 11" / 216 mm x 279 mm sheets
Note - Packs of 5 sheets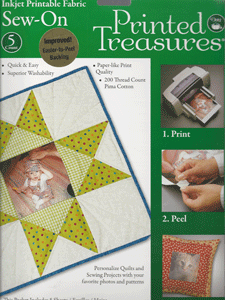 Printed Treasures
Sew-On Printable Fabric Sheets
Thesdse sheets work with any inkjet printer or inkjet copier and are colorfast and washable. Personalize quilts and sewing projects with your favorite photos and patterns. Paper-like print quality on cotton fabric sheets. Retains image clarity and color after washing. Soft and pliable for easy sewing. Resists fading from light exposure. Ideal for printing photos- patterns- images or designs of any type. Apply to quilts-pillows- scrapbooks- clothing or any item you want to personalize.

Pack consists of: 5 x 8.5 inch x 11 inch sheets.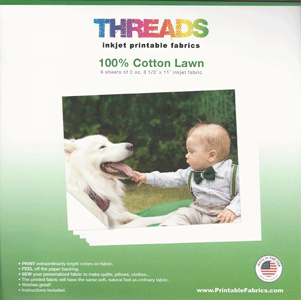 Cotton Lawn
This plain-weave Cotton Lawn fabric is lightweight (3.5 oz.) and semi-sheer. Made from very fine, high-thread-count, carded yarns, the fabric has an even weave and even yarns for a smooth, untextured finish. Itís perfect for smocking and heirloom work. Formerly used primarily to make childrenís clothing, Cotton Lawn is now printed with sumptuous designs to make everything from poet blouses to nightgowns and sun dresses. Cotton Lawn produces light, airy prints and is a favorite for doll clothing, miniatures, cotton underwear and clothing items that are gathered and of course Quilting

Pack contains 6 sheets - 8.5" x 11"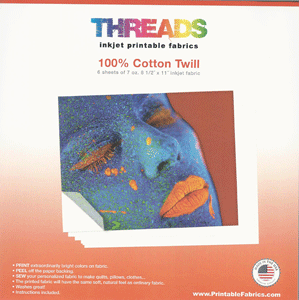 Cotton Twill
This medium-weight (7.0 oz.) Cotton Twill has a distinct diagonal pattern that is created by passing the weft thread over one or more warp threads and then under two or more warp threads and so on, with a step (offset) between rows. Because of this construction, the fabric is soft and pliable, drapes well and resists wrinkles. Sturdy and versatile, Cotton Twill is a standard fabric for manufacturing trousers and blazers. Crafters love it for handbags, cushions, wall hangings, shopping bags and craft projects.

Pack contains 6 sheets - 8.5" x 11"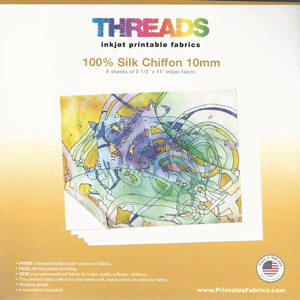 Silk Chiffon -10 mm
This plain-weave, sheer Silk Chiffon is the lightest and most transparent of all the fabrics. It is loosely woven from tightly twisted single crepe yarns in both warp and weft. The weft yarn is either S or Z twist and doesnít alternate like the Silk Crepe de Chine. Silk Chiffonís characteristic wrinkles are created by the weft yarns being pulled in one direction. This extremely lightweight Silk Chiffon prints with amazing color saturation, and much of the color will show through on the back of the fabric. Soft and diaphanous.

Pack contains 6 sheets - 8.5" x 11"
We also stock a range of EQ Printables in various sizes and pack sizes

To EQ Printables
Cotton - 200 threads per inch (tpi)
Cotton Lawn - 240 tpi
Cotton Satin - 283 tpi

---

---


Page updated 8 April 2021 by The Man from Rio

©2021 - Rio Designs


---